While most people don't typically think of Nevada as a place that deals with winter weather, area residents would say otherwise. A lot of people who move to the state don't realize that prepping their vehicles for the winter months is important, as snow and ice are very much a factor. Considering that the open roads come with their fair share of uncertainties, you'll want to be prepared for when the snow and ice add multiple new obstacles to your daily commute.
That's where we come in. Our expert team of factory-certified technicians has been performing Reno winterization work for many years, and they're well equipped with the latest tools, tips, tricks, and technology to ensure you drive confidently no matter what the weather throws at you.
---
Your To-Do List This Winter Season
First things first, there are several things you can do yourself to ensure that you are prepared.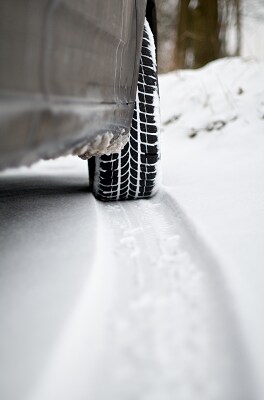 1.) Check Your Tires
While many of our customers around Northern Nevada would hardly consider themselves automotive experts, we do like to empower as many people as possible with the knowledge of what to look for. The first place you should look when determining your winterization needs is your quartet of tires. We get a fair amount of heat during the summer months, so the shift to colder temperatures can have a big effect on the integrity of your tires.
Look for small cracks along your tires, particularly near the hubcap. If you do notice any, it's a sign that you are at risk for a blowout and will need to change them. For the winter months, we recommend changing to winter tires and getting a tire rotation for improved traction and handling.
2.) Check Tire Pressure and Refill as Needed
For every ten degrees that the temperature drops, your tires lose one PSI. As you can probably imagine, the area around Reno/Sparks experiences drastic temperature drops, particularly at night, so this is something to keep in mind at all times.
3.) Pay Attention to Your Brakes
If it's been a while since you last changed your brakes, winter has a way of bringing out the worst in bad brakes. If your brakes produce a vibrating effect when you press down on them, or you notice squeaking, squealing, or worse, a metal grinding sound, you'll need to replace your brake pads ASAP.
4.) Get Your Battery Tested
Another big part of winterization in Northern Nevada is ensuring that your battery is in working order. Batteries around three to five years old begin to experience issues in colder weather, so if you notice slow engine crank, fluid leakage, or that your check engine is on, don't hesitate to bring it in.
5.) Switch Out Your Windshield Wipers and Add Antifreeze
The arrival of winter means that there's never been a better excuse to swap out those old and worn down wiper blades with a pair of fresh ones. Plus, you'll want to add some antifreeze to your fluids to keep them from freezing up on you when the temperature dips at night.
Winterization FAQ
Still not sure about what to do with your vehicle this winter? No problem, we've compiled the most common questions we get and have answered them for you.